(Fasciolopsis Buski)
The adult worms, 2-7.5 cm (0.8-3 inches) long, attach themselves to the tissues of the small intestine of the host by means of ventral suckers; the sites of attachment may later ulcerate and form abscesses. In the early stage of the infection, there is usually abdominal pain, as well as diarrhea and nausea alternating with constipation. Heavy infestations that go untreated cause general body weakness and fluid retention, which may have serious consequences, especially in children.
Life Cycle Diagram (Courtesy of the DPD)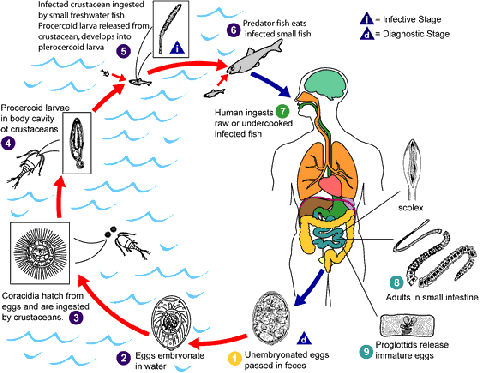 Immature eggs are discharged into the intestine and stool

. Eggs become embryonated in water

, eggs release miracidia

, which invade a suitable snail intermediate host
. In the snail the organisms undergo several developmental stages (sporocysts
, rediae
, and cercariae
). The cercariae are released from the snail
and encyst as metacercariae on aquatic plants

. The mammalian hosts become infected by ingesting metacercariae on the aquatic plants. After ingestion, the metacercariae excyst in the duodenum
and attach to the intestinal wall. There they develop into adult flukes (20 to 75 mm by 8 to 20 mm) in approximately 3 months, attached to the intestinal wall of the mammalian hosts (humans and pigs)
. The adults have a life span of about one year.


Adult fluke of Fasciolopsis buski.
The adult flukes range in size: 20 to 75 mm by 8 to 20 mm.



Fasciolopsis Buski adult;
approximate length = 50 mm

Measuring up to 75 mm in
length, it is one of the largest
trematodes found in humans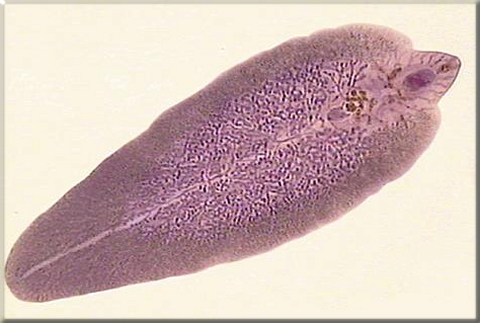 Click here to find out more.